On October 16th, Venice will host one of the most amazing event in the San Marco lagoon: the Veleziana 2016.
The Veleziana is the most magical regatta, organized by the Compagnia della Vela. For one day only Venice will be a unique meeting point for dozens of sailing boats. This event is the autumn classic regatta that will close the sailing season, bringing a lot of sailing boats in San Marco's lagoon, divided in 12 categories.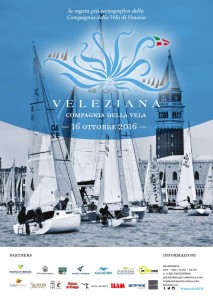 Boats of more than 5 meters can partecipate to the regatta. Among the 12 categories there is also the Elan 210, the protagonist of a former regatta, called Velezianina, on October, 15th. The winners of each category of the Velezianina 2015 will partecipate, driving several Compagnia della Vela's Elan 210, which needs a crew of 3-4 people.
The award ceremony will be on November, 26th.
Among the sponsor of this 9th edition there are: the Sartori Jewellery, which raffles a Officine Panerai watch, Carlo Moretti Glassmaker with some Murano handmade products and Rigoni d'Asiago, SLAM, Armare Ropes and Duvetica with some other prizes.
During the same day CONI organizes the Sani Sapori event.
Would you like to partecipate? Click here to subscribe.